LOCATE is a multi-disciplinary project that has undertaken the first ever coordinated sampling of the major rivers in Great Britain. This has helped scientists answer questions about the long-term fate of organic carbon held in soil over the next fifty to one hundred years by establishing how much carbon from soils is getting into rivers and estuaries and determining what is happening to it.
The LOCATE vision is that in ten years the key processes relevant to decomposition of terrigenous (material eroded from land) carbon are well represented in models, particularly for carbon stored in peatlands.
---
The Work Packages | Meet the Team | Funding

---
LOCATE consisted of four interconnected work packages:
Work Package 1
Quantified the fluxes down rivers and across estuaries through a 1.5 year sampling programme in 2017-2018, sampling 40 rivers monthly (January 2017 – December 2017) and 14 estuaries quarterly (April 2017 – April 2018), selecting rivers and estuaries that represented the diverse land use and hydrological conditions (temperature, rainfall) present in Great Britain, these totaling a third of rivers that drain the UK.
Work Package 2
Examined the processes that remove organic matter across the estuarine gradient and quantified their relative importance in 3 focal catchments (Conwy, Halladale, Tay) by conducting a detailed experimental field assessment during 2018 - 2019.
Work Package 3
Combined the data and knowledge from work packages 1 & 2 to deliver new modelling capabilities that act as predictive models to make future projections of the fate of the UK organic carbon stocks.
Work Package 4
Aimed to innovate new technology, with the development of autonomous, multiparameter (temperature, conductivity, turbidity, dissolved oxygen, pH, fluorescent dissolved organic matter, CO2 and chlorophyll) "sensor pods" which allowed LOCATE researchers to measure in real-time fluxes of organic matter. In addition, a new innovative equipment was designed, the "iBOD" system, that allows to measure these three processes at the same time in water samples:
Photosynthesis (biological production of organic carbon from inorganic carbon)
Photolysis (chemical process in which the sunlight is able to break molecules to smaller components)
Respiration (degradation of organic carbon to inorganic carbon via biological activity; inverse process to photosynthesis)
---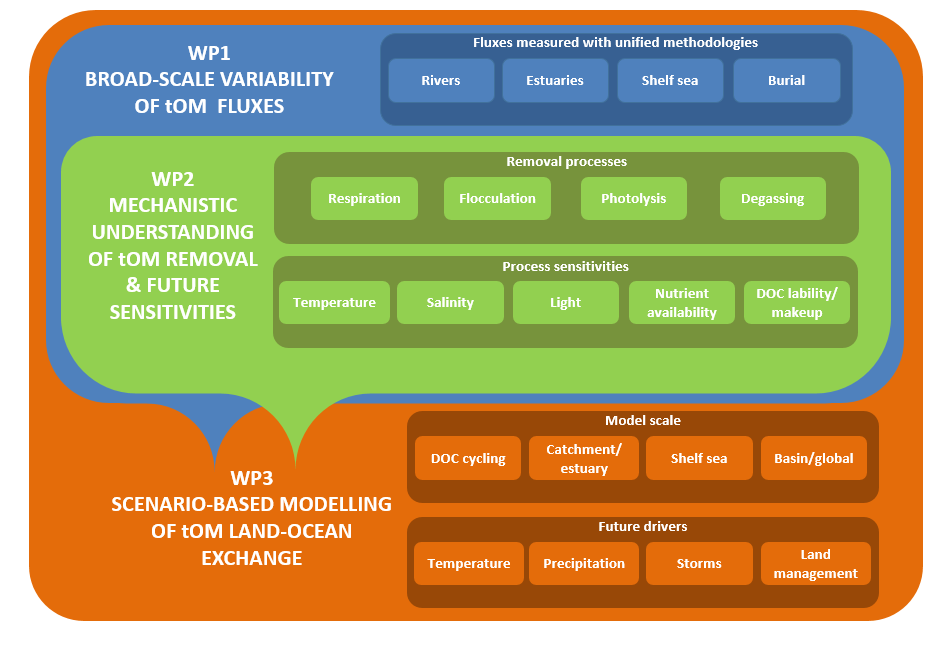 ---
LOCATE is a partnership of:
National Oceanography Centre  
(NOC)
British Geological Survey  
(BGS)
UK Centre for Ecology & Hydrology  
(UKCEH)
Plymouth Marine Labs  
(PML)
The core team
The core team provided oversight, direction, and work package management. The core team consisted of a science lead, the leaders of each work package as well as one representative from each institution.
Dan Mayor 
NOC 
Science lead & WP2 leader

Jason Holt 
NOC 
Co-Investigator & WP3 leader

Richard Sanders 
NOC 
Co-investigator

Chris Evans 
UKCEH 
Co-Investigator & WP1 leader

Bryan Spears 
UKCEH 
Co-Investigator & WP2 leader

Dan Lapworth 
BGS 
Co-Investigator & BGS representative

Andy Rees 
PML 
Co-Investigator & PML representative

Jen Thomas 
Programme Manager
---
The wider team
There are many other people who have made LOCATE happen.
National Oceanography Centre

Dr Daniel Mayor

Dr Richard Sanders

Dr Laurent Amoudry

Professor Thomas Anderson

Professor Adrian Martin

Dr Martin Arundell

Dr Claire Evans

Dr Jason Holt

Dr Christopher Pearce

Professor Alejandro Souza

Dr Sinhue Torres-Valdes

Dr Socratis Loucaides

Dr Chris Balfour

Mr Chris L. Cardwell

Dr James D. Harle

Mr Greg J. Slavik

Dr Sarah L. Wakelin

Dr Anna Lichtschlag

Dr Julie Robidart

Professor Jason Holt

Dr Sarah Wakelin

Dr E Elena Garcia-Martín

Dr Stacey L. Felgate

Dr Susan Evans

Dr Ian D. Lichtman

British Geological Survey

Dr Daniel Lapworth

Dr Andrew Tye

Dr Barry Rawlins

Dr Christopher Vane

Dr Daren Gooddy

Dr Rachael Beale

Dr Benjamin P. Marchant

Dr Louise Maurice

Dr Michael Bowes

Dr Ian Mounteney

Mr Peter Williams

Dr Nicole A. L. Archer

Mr Gareth Farr

Dr Lei Wang

Plymouth Marine Labs

Dr Andrew Rees

Professor Philip Nightingale

Dr Vassilis Kitidis

Mr Jeremy Blackford

Dr Ricardo Torres

Dr Luca Polimene

Dr Yuri Artioli

Dr Malcolm S. Woodward

Mr Ian Brown

Mr John Stephens

Mrs Lisa J. Al-Moosawi

Mr Ian J. Brown

Dr James Fishwick

Mr Oban Jones

Mrs Rebecca May

UK Centre for Ecology & Hydrology

Professor Christopher Evans

Dr Bryan Spears

Dr Jennifer L. Williamson

Dr Amy Pickard

Mr Donald Monteith

Dr Victoria Bell

Dr Kerry Dinsmore

Dr Edwin Rowe

Dr Douglas Clark

Professor Nancy Dise

Dr Alan Radbourne

Miss Annette Burden

Dr Nathan Callaghan

Dr Justyna P. Olszewska

Dr M. Glória Pereira
And many other volunteers who helped during the collection of samples.
---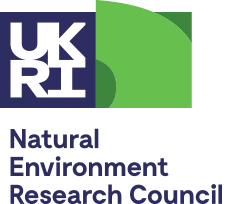 LOCATE was funded through a £4.1m NERC research grant (NE/N018087/1) and extended via a NERC National Capability Science R1 extension grant (NE/V013300/1)
---
Find out more